To celebrate the 50th anniversary of Doctor Who, I shall be conducting several interviews throughout the year with members of the Doctor Who team past and present. The fifth in the series is with costume designer and great chap, Ray Holman. Ray worked on the fifth series of "NewWho", Sherlock and Law and Order: UK. 
Hi Ray, thanks for agreeing to this interview. You were the costume designer for the pilot of Sherlock. When you were creating Sherlock's look did you research other Holmes looks? Was your original design carried through to the first episode of the first series? Or was it altered?
I looked briefly at what other actors wore as Holmes, but our Sherlock was a modern drama, not a period one, so I did a little research before we searched for a modern look. The coat I found was perfect because it was the modern version of a period driving coat, cut with flair and style with a very contemporary feel. The design was kept for the first series and continues onward, everything moves forward and Sherlock's modern incarnation should keep evolving in the same way that the Doctors' 'look' continues to change.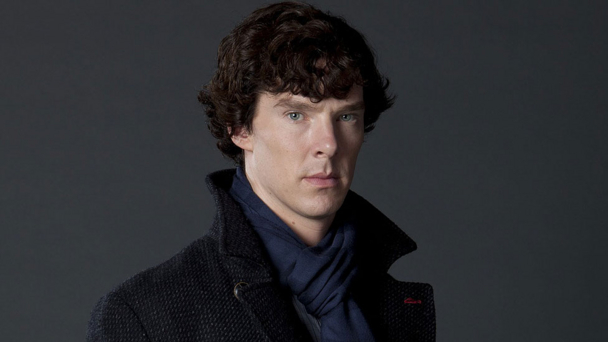 You did the costume designs for the 2010 series of Doctor Who and two episodes before that. Do you think that it became easier to design the costumes as time went by?
It's never an easy task to design anything, it's a great responsibility. Every script is different, it never gets easier, each episode or series is completely unique to itself and it's writing and performances.
Has an actor or actress ever had a firm idea of what their character should wear?
Yes, it's vital, I don't have to wear the costume and part of my job is to make sure the actor is happy, a pair of shoes can change the way an actor walks, a costume can be too restrictive or too loose. I would never let an actor go onto set unhappy with what they are wearing, although sometimes costumes need to be appropriate to the script such as legal gowns and wigs in Silk.
When creating costumes do you talk to the writers about what they think the costumes should look like?
 It depends on the writer. Sometimes they have a huge input and sometimes they don't. My main discussions happen with the executive producer, the producer, the director and the actor. Sometimes the executive producer is the writer and that's a dream, like Chris Chibnall on Broadchurch.
You have worked on both Silk and Law and Order: UK. What attracts you to working on legal dramas? Is it easier or harder to design costumes for series like Silk?
 Silk reminds me of doing a period drama, there is a lot of practical research which has to be correct. The clothes are worn at certain times and vary between courts. I like doing drama that deals with serious subjects such as murder, rape, violence against women, fraud etc because these dramas look into the human soul. I try to chose the ones that imply the horror rather than showing any violence. They help bring these subjects to a mass audience for discussion and I like doing that. My best project ever was This is Personal:The Hunt for the Yorkshire Ripper, I loved bringing that to life for an audience.
You have done the costume designs for Rab C Nessbitt, Chewing The Fat and Still Game. Do you enjoy working on such programs? The variety in characters and therefore costumes must keep the work interesting.
 There was a time in my career when I used to go to Glasgow to do my comedy projects and then back down south to do my drama. I like doing both, though haven't actually done a comedy for a while now. I love doing comedy. All these genres are interesting in very different ways and I like the variety they offer. Still Game has become a huge cult comedy and I'm proud of that.
You are now working on the excellent Wizards vs Aliens. Is it at all a different beast to your previous work on other science fiction shows like Doctor Who and Torchwood? Because the show is aimed at a younger audience, did you have to do much research into teenage fashion and how it differs from the style of adults?
 I did do a lot of research into colours and styles for Wizards. It's a curious mix of fashion and fantasy and I think I design and make a lot more costumes on Wizards Vs Aliens than I have in a while. I like fabric sampling for Ursula and some of the more unusual things. Randall Moon is a full on period costume built from scratch which is lovely. The Wizard robes are brilliant to make as they are 'specially embroidered with their own language.
Have you always wanted to be a costume designer?
I went to university to be an actor and came out at the end a qualified designer. I trained to design sets and costumes, but as soon as I left the BBC trained me in their costume department and I haven't looked back.
You have done period pieces such as Vanity Fair and Born and Bred. Do you find it easier to design costumes for such pieces as there is more detail that can be researched than say with science fiction drama like Doctor Who?
I think both period and science fiction are similar, you need imagination and authenticity for both. Doctor Who has it's own challenges, Torchwood had similar challenges, but more freedom because it was essentially adult and period productions are based in reality and research, they work best when you add a pinch of creativity and sometimes they even all work together, lots of Who is set in the past and works brilliantly and even the stuff that's set in the future references the past in some way.
What projects have you got lined up for the future?
I'm just finishing Wizards Vs Alens 2, I am about to start preparing Silk 3 and I hope I will be part of Broadchurch again once it's written. Something new will come along as well, I hope.
Thank you for talking to us, Ray, it has been great.
Related articles